Two months ago, during the Sound Horizon 10th Anniversary Fan Club Event, Revo confirmed that the 3rd installment of the Anniversary Series would be a Story CD.
Two days ago, Sound Horizon's official LINE posted an encoded message which was later deciphered by the fans. The messaged looked like a notice from an antiques shop, announcing the restocking of a new item (a new model of sunglasses) although only one unit was available.
After that, the 10th Anniversary special site was updated with the following message:
A story beginning from a certain antique shop.
If it had been this way back then, would something have changed?
Finally, today we learned that this new release will actually be the 9th Story CD, and will be released in April 15 next year.
Why the 9th and not the 8th?
As bizarre as this is, there are two things that previously hinted at this happening.
1. Back in 2009, a new T-shirt was released with the following message on the back: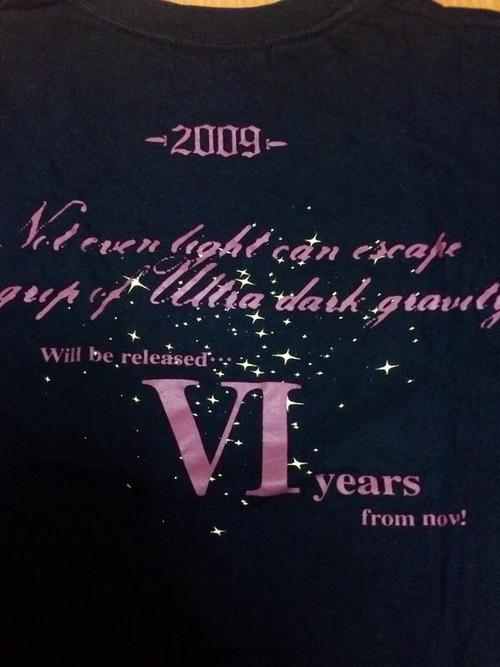 This message was a reference to that year's April Fools joke, which announced the release of an album called 9th Story CD "Marvelous Super Dimension". At that time, nobody gave it much importance. Now, it seems that this release has been planned for a long time.
2. Also, in 2012 Revo jokingly said in an interview that "Maybe the world is not ready for the 8th Story CD, so it is necessary to take a little detour. It's probably better to release the 9th Story before the 8th!" Well, seems like he meant that.
Is this new release "Marvelous Super Dimension" then?
Well, we don't know. But the hint tagline that was given through the official website doesn't really sound like an outer space adventure.
So, is this Vanishing Wallet part 3?
Yes. Like the previous release, this one will have three editions. Normal, Limited and Deluxe.
What about a 9th Story Concert Tour?
No details have been announced yet. When the 7th Story was confirmed, the first dates of the 7th Story Concert were also released at the same time.
9th Story CD "Title TBA"
Sound Horizon 10th Anniversary Series Part 3
REGULAR EDITION

Release: April 15th, 2015

Price: 3,000 yen

CD

Tracklist TBA

LIMITED EDITION

Release: April 15th, 2015

Price: 3,500 yen

CD

Tracklist TBA

BONUS DVD

Content TBA

DELUXE EDITION

Release: April 15th, 2015

Price: 10,000 yen

CD

Tracklist TBA

BONUS BLURAY

Content TBA

EXTRA CONTENT

TBA