The new Sound Horizon Maxi Single, Anniversary Maxi "Vanishing Starlight" went on sale today. We have the first images of store displays, like this one from Animate: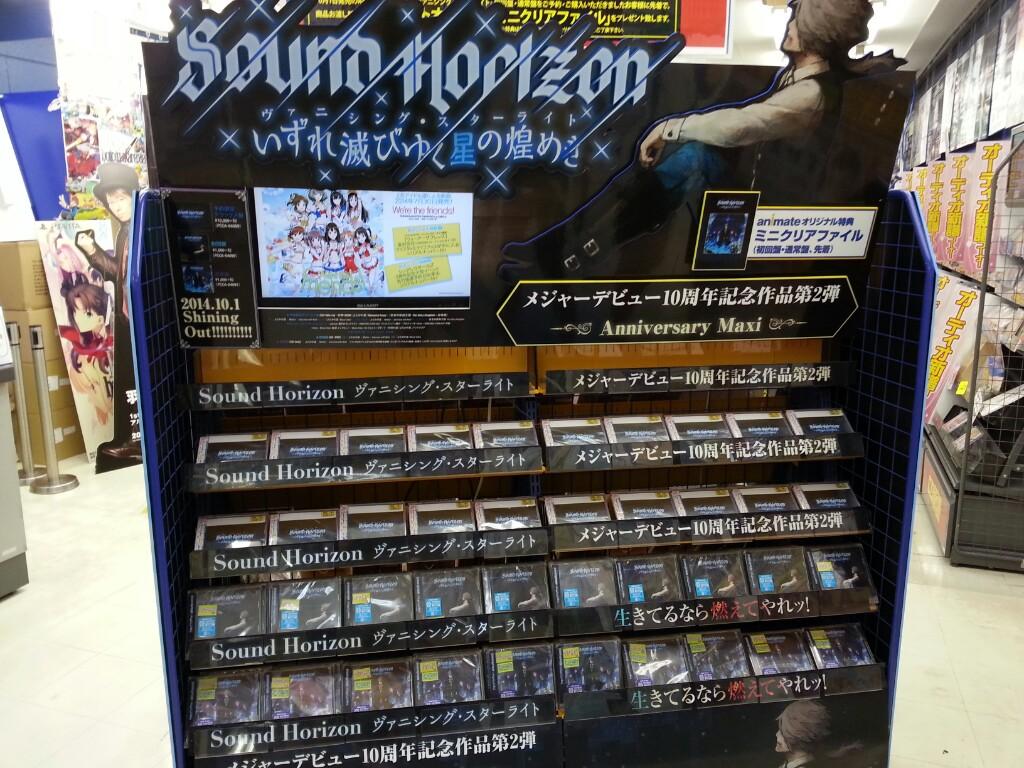 Because of how release dates work in Japan, some shops already had the new single on sale yesterday, one day before the release, for the biggest fans who can't wait. This phenomenon is colloquially known as "Furage" or "Flying-get", and is the reason why Daily Sales Charts already feature some releases on the same day they officially go on sale.
Amazon and other online store shoppers already got their Deluxe editions delivered. Again, this edition is ridiculously huge: Shipping weight is 1,1 kg. This has caused problems with shipping fees, which tend to increase after the parcel exceeds 1 kg.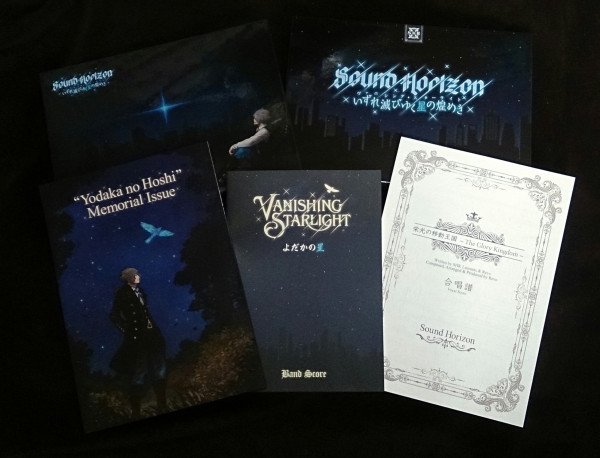 Some lucky Laurants already had the chance to listen to the single. As you may already know, Interview with Noel is 15 minutes long, and is officially the longest Sound Horizon song to date.
If you want to discuss the new songs and give your opinion on Vanishing Starlight, you can join us in this thread of the forum.
If you would like to buy your own copy of Vanishing Starlight, remember that the low-price Regular Edition, which costs 1,000 yen, will be going out of print soon and the next edition will have the normal price for a single (1,400 yen).
Here are our good old CDJapan links. If you are considering getting your own copy of the single, please buy it on CDJapan. We normally don't say please buy it, but this time the fansite needs money to cover the costs of our Fan Project Sound Horizon and You, and every little contribution (like the 5% of your purchase money that goes to us) counts. Thank you!
Anniversary Maxi Single "Vanishing Starlight"
REGULAR EDITION

Release: October 1st, 2014

Price: 1,000 yen

Yodaka no Hoshi
Mother
Interview with Noël

LIMITED EDITION

Release: October 1st, 2014

Price: 1,800 yen

Yodaka no Hoshi
Mother
Interview with Noël

BONUS BLURAY

Yodaka no Hoshi MV

DELUXE EDITION

Release: October 1st, 2014

Price: 10,000 yen

Yodaka no Hoshi
Mother
Interview with Noël

BONUS BLURAY

Yodaka no Hoshi MV
Vanishing Starlight in high-resolution audio
National Anthem (new recording)

MEMORIAL ISSUE (Book)

Illustrations by Yokoyan
Introduction to the members of VANISHING STARLIGHT
Interview to Band Producer Revo and the band VANISHING STARLIGHT
Interview to Revo and the Music Video Director
Music Video image board
Music scores for Yodaka no Hoshi
Chorus scores for the SHK National Anthem